Explore the city
About Galle
The capital of the southern province is a city with a colourful history. UNESCO declared World Heritage Site the magnificent Dutch fort is the most popular attraction of the town. 300-year-old Dutch atmosphere is still very much alive around the fort and amidst its many historical buildings not invaded by the skyscrapers. Today's town has grown greatly and spreads into the surroundings but the Fort is the slow beating heart of Galle's history. The walled city has stood since the early sixteenth century, through the Colonial periods of the Portuguese, Dutch and British and in our present times is proclaimed as an Archaeological Reserve and has been identified as a living World Heritage Site.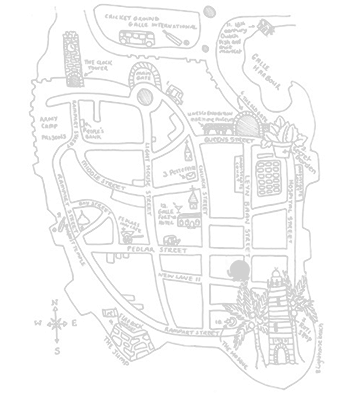 Galle at a glance
Facts and figures about Galle
Province
0
Southern Province
Attractions
0
+15 locations
– Galle International Stadium
Considered to be one of the most picturesque cricket grounds in the world.
– Southern Expressway
Reach Galle within 1h time from Colombo without getting caught at the traffic.
– Galle clock tower
Longstanding tower featuring a large clock face, built in 1883 on top of a former guard room.
– Maritima Archaeology Museum
Underwater artifacts, ship models & other marine-centric exhibits in a Dutch warehouse from 1671.
– National Museum of Galle
Circa-1656 Dutch building now a museum, with artifacts like masks, carvings, ship equipment & armor.
– Unawatuna Beach
Beach with golden sand & palm trees offering activities like snorkeling & scuba diving.
– Galle lighthouse
Historic lighthouse at a fort with simple style & a nearby beach popular with swimmers.
Explore the city
Mesmerising Galle
Today the Galle Fort is still alive and vibrant and a great place to visit. It is also a UNESCO World Heritage Site and thus sees a fair amount of tourist traffic. On the southern tip of the island of Sri Lanka, there is also a great beach close by at Unawatuna. The Dutch Reformed Church, the Galle Lighthouse, the Historical Mansion Museum, Temples and Mosques are some of the famous tourists' attraction points around Galle.